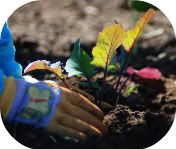 So, I'm late once again with the garden update, but at least I'm posting this week. Last week was a holiday and with company in from out of town for the weekend, plus both the girls and the Gardener home, there was no way Garden Monday was going to happen. I don't have a good excuse why I didn't post on Wednesday or really any day last week other than the truth that life happens and other stuff ends up trumping the blog. Stuff like Binny falling at the park, scraping both knees and the entire right side of her face then getting some sort of eye infection in the left eye 2 days later. There was also a field trip to the zoo in there, several sunburns and a new pair of glasses for a certain 8 year old and enough good gardening weather to keep all of us busy and outside as much as possible.
First an overview of the big veggie garden, and the freshly planted corn field in the background.
The entire 55 foot row of onion sets are up and growing like mad.
The broccoli and brussel sprouts are growing as well.
Like last year, I'm growing a row of sunflowers and pole beans together. It was so much fun last year, how could we not try it again?
The strawberries are blooming and fruiting in there current home smack dab in the center of the garden for hopefully the last time. The gardener just tillled up a new garden for me back behind the shed that will be our new berry garden. I already moved lots of raspberry plants out there but I'm going to wait until after the strawberries fruit to move them.
Tomatoes.
Zucchini.
Cherry tomato.
And some of the plants were thirsty!
Also in the new garden is also where I stashed the extra tomato and pepper plants. The greenhouse is finally, almost empty from all 6 flats of plants I started from seed.
There's lots more going on in the garden these days, but it's late and I still have some sun-burnt shoulders that are screaming for attention. Until next week...