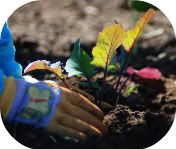 Grandma Dee moved into a beautiful apartment a week ago last Saturday, and since the Summer is already filling up for us, the girls and I decided to make the 6 hour drive out this past weekend to check out her new place and get our fill of hugs.
My cousin and his wife stopped by with their beautiful baby girl, and of course I had to take a photo of the girls with their great-grandmother.
While we were in Minnesota, it didn't snow like the last 3 times I visited the state, but it did rain most of Saturday afternoon. Binny and I decided to brave the drippy weather and go with my mom to check out her community garden plot nearby.
The fun thing about a community garden is that you can see all different styles of gardening in one big area. Some people plant veggies, some plant flowers, some do both!
Some mulch, some don't.
Some arrange their gardens in north-south rows and some go east-west (I garden in north-south rows so the sun is even all day long when it moves from east to west, but that's just me...) and some don't do rows at all, just a mish-mash of green stuff in the dirt.
And then there are some gardeners who go all the way. My mom was telling me about this garden below and all I could do was think about how much time and money this all must have cost. This garden belongs to a young couple who are gardening for the first time and started everything from seed including all of the flowers around the outside of their fenced in double wide garden.
Complete with a door and a lock to keep the riff-raff out.
They have weed mat down around all the plants and a drip irrigation system as well. The next time someone tells me my garden is too big and too much work, I will refer them to this post. I guess it just proves that gardening is a fun activity that can range from this extensive set-up at a community garden, or a few potted tomato plants on your back patio.
And as for my garden, it was waiting for us with ripe strawberries when he arrived home yesterday.
Anybody else gardening this week? If so, grab the Monday Garden Club button on my sidebar, paste it to your blog entry and link up below with Mr. Linky.