is a collaborative link collection
posted at the end of each month
on Living and Learning.
Its purpose is to showcase photos of children
enjoying nature to inspire all of us to get outdoors more.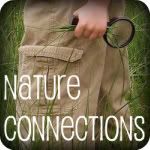 We must be in some sort of winter weather pattern that is giving us the most beautifully sunny and calm Sundays. The last 3 have been perfect for ice skating, so that's what we've been doing.
Don't get me wrong, the kids love ice skating on Grandma and Grandpa's pond, but since someone else *ahem* recently bought a pair of skates, he's been working on some fancy moves of his own.
Be sure to stop by
Living and Learning
for all of the other Nature Connections links!