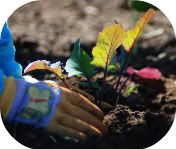 Like always, I had good intentions of getting this posted before
breakfast
sunset, and now here it is almost 10pm and my house is wild with 3 giggly girls (It's Spring Break and the girls have a friend spending the night. Ooh boy!) and my eyes are barely staying open on their own. Anyhow, it's
basement gardening time again
which means we propped up the table on paint cans and strung cords all across the basement to start growing this year's veggies and flowers under the fluorescent lights.
I started a flat of veggies (tomatoes and peppers) and a flat of flowers 2 weeks ago. Once the first two flats germinated and tiny plants started peeking out of the soil, I moved them off of the heat mats (used to speed up the germination prcocess) and started 2 more flats yesterday.
Can you believe this tiny seedling will (hopefully) grow into a 10 foot long Passion flower plant that produces Passion fruit?
These tall plants are a new (to me) variety of Lupine flower that are blue and yellow.
Above is the first flat of veggies I planted. The back six sections are assorted varieties of tomatoes and the front two are bell peppers. I almost gave up on the bell peppers after almost 2 weeks and no activity. I thought maybe my seeds from last year were no good but then all of a sudden, they popped up. I then remembered that last year the bell peppers seemed to take a long time to germinate as well, even when the seeds were brand new.
tomatoes
flat of flowers, just planted.
These are the heat mats I use, and yes, they get a little dirty under my care.
Just planted veggies. Broccoli, Brussels Sprouts, cauliflower (Even though I have had no luck with cauliflower ever. When will I learn?) and grape tomatoes.
I'm still without a reliable Linky, so at least for this week, if you have a garden update, leave your link in the comment section and I'll add it to the bottom of this post. (I did, however make a blog button and it is free for the grabbing on my side bar ----->) One more favor? I have had a few new gardeners mention to me that they are planning to give veggie gardening a go this year. Yay! For anyone else who has participated before, or plans to this year, would you leave a comment about what hardiness zone you garden in so I can (perhaps, if I get my shit together) make a blogroll with zones noted so everyone can see what's growing in similar areas? Thank you!!! For information on hardiness zones, click
here
.