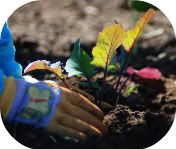 The weather here has been a little unpredictable lately, making Spring gardening extra tricky, which also means I have planted exactly nothing outside yet. Heck, the garden isn't even tilled yet and all of the flower pots are still buried in the planting room of the barn. When it's not raining, the wind is blowing so hard that you have to watch for flying objects when you go outside. The cover on our charcoal grill blew off and landed in the flower bed, and we've been finding broken roof shingles from the barn scattered all around the yard.
The asparagus have finally emerged from between the weeds, but I haven't picked any quite yet. I'm hoping to have enough to steam and serve with a meal by the end of the week.
The rhubarb is big enough to eat, and like every year, we always have more than we can use. I chopped up this batch and made a
strawberry-rhubarb crisp
the other day.
My Father-in-law called me yesterday to tell me he found peach trees at a local garden center for just $10 each and I should go pick one up before they are all gone. I went first thing this morning and bought 2. The going rate elsewhere for similar trees is around $30. Now that's what I call a gardening win! Now we have to plant them and wait to see of they will grow and produce peaches!
The plants are all still in the greenhouse, and unless the weather makes a quick turn for the better, I may not get the garden prepared and planted by the end of the week like I was hoping.
Anybody else gardening this week? If so, grab the Monday Garden Club button on my sidebar, paste it to your blog entry and link up below with Mr. Linky.