Monday again. Time for an update from the basement.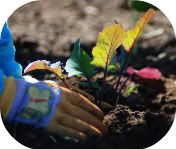 Flowers
Last week I replanted seeds of everything that hadn't come up, including the pansies but as of yet, still no pansies. Everything else is filling in nice and I transplanted quite a few seedlings to even out the trays and fill in the bare spots.
Tomatoes and peppers
Broccoli, Brussels Sprouts, a few more peppers and cauliflower

Our basement is a bit cool so the plants prefer to be in something. This little greenhouse is actually a plastic container that originally came into our house with 2 heads of lettuce (from Costco) in it. As it sat empty on the counter waiting to be taken out to the trash, I realized it would make a great home for a few extra tomatoes I thinned out and some herbs too.

This is actually the top of the container but I use it upside down after I discovered how stuck-on the sticker was.
Anybody else gardening this week? If so, grab the Monday Garden Club button on my sidebar, paste it to your blog entry and link up below by clicking on the Mr. Linky button directly below this post.