Here I am again, late to my own party. At least it's still Monday, right?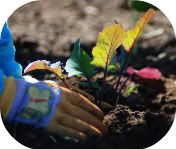 You might also notice I'm having a little trouble with one of the grow lights. Not the crooked one even but the one that isn't putting out any light. I checked on the plants last night and everything was fine but today when I made my trip down to the basement, the fixture was dead. Thankfully, I married an electrician, but unfortunately he couldn't fix it with what we have at home and we don't have any spare fixtures hanging out in the barn, a rarity. Tomorrow when I go to town, I'll pick up another fixture and my sweet husband will (pretty please?!) install it for me when he gets home from work. For now the plants in the dark have started to lean themselves over to the still functional light. Smart plants!
Brussel Sprouts
Tomatoes
Anybody else gardening this week? If so, grab the Monday Garden Club button on my sidebar, paste it to your blog entry and link up below with Mr. Linky.