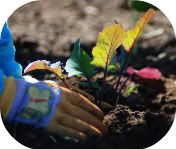 We spent most of the beautiful day yesterday about 20 minutes west of where we live, enjoying the unseasonably warm the 80+ degree day celebrating the Gardener's grandmother's birthday. On the way home, we watched the temperature on the digital readout in the car plummet all the way from 83 to 72. Still, 72 was nice so while the Gardener raked the gravel out of the ditches along the road, I hauled all of the flats of seedlings out of the basement and outside into the greenhouse.
Yes, that's my Oreo cookie in the bottom right hand corner of the greenhouse. Thanks, Binny!
While I was moving everything around, I decided to transplant some of the duplicate seeds that popped up (I hate to throw away perfectly good plants just for the sake of thinning them out!) into that little half tray on the right.
About an hour after I hauled everything outside, the sky turned dark and I chickened out and moved everything back down to the basement and back under the lights. But it was nice to be outside moving the seedlings and enjoying the fresh spring air even if it was only an hour.
I also walked around the yard to check on the progress in the flower gardens since I cleaned them out last week. They seem to like it!
Lilies
Lupines I started from seed last year!
Sedum
Tulips
I can't remember what this one is. Maybe more lilies, maybe irises.
Anybody else gardening this week? If so, grab the Monday Garden Club button on my sidebar, paste it to your blog entry and link up below with Mr. Linky.